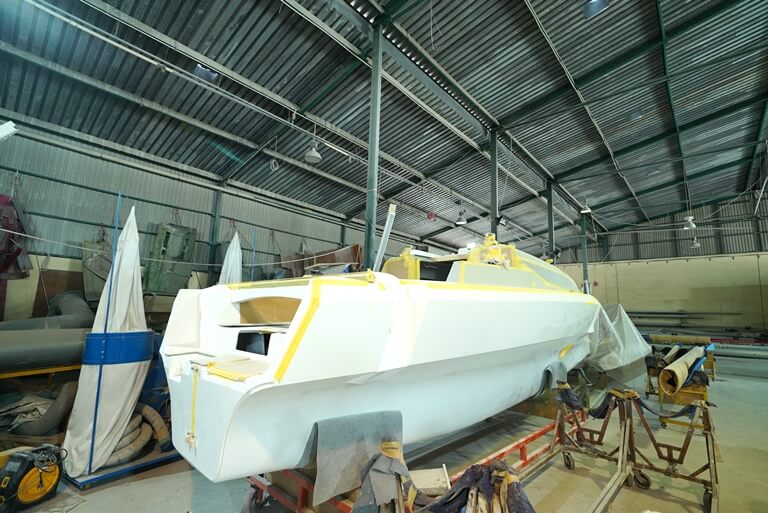 MARCH 24, 2020 – PRODUCTION UPDATE TO CORSAIR MARINE HULL #001
Wright Yachts is the official Pacific Northwest Multihull Center for Corsair Marine's High Performance, Trailerable Sailing Trimarans. We have inventory on our docks, ready to sail away today!
We are delighted to provide to the Pacific Northwest market the thrilling line of Corsair Marine Trimarans. At Wright Yachts, we're determined to help our clients get on the water, because that's where we love to be as well. And now with the addition of this impressive lineup of swift and lightweight trailerable trimarans, there is a trailerable sailboat to fit any crew.
Multihull Sailboats are quickly becoming the favorite of many old and new sailors alike. When you sail on a trimaran, the sheer speed, predictable motion and stability will have you enticed again and again to get out on the water. Scroll down to learn more about our impressive line-up of Corsair Marine Trimarans.
Corsair Marine's patented lightweight folding construction and single-hand mast raising system opens up destinations. The rudder and dagger board raise and lower easily from the cockpit for shallow water sailing, trailering from any boat launch and can be sailed right onto shore! Imagine a sailboat without limitations of draft or location, with amenities to match any monohull it's length and matching the windspeed with stability and ease. Well my friend, you should look no further then a Corsair Trimaran.
---
Our largest sailing trimaran with a pedigree of blue water cruising and exceptional performance capabilities. Also available is the C37RS Carbon, a performance equipped C37 built predominately of carbon fiber for added strength and reduced weight.
Speed, performance, spacious interior and ease of trailering. Slightly longer than the previous C31 and approximately 15% more interior space inside. Also available are the 970 Sport with increased sail area and performance equipment and the 970 Carbon, a full carbon build for added strength and reduced weight.
The New Corsair 880 has been developed for the modern sailor; adventurous and versatile. The new design provides sailors of all skill levels the opportunity to sail an effortlessly fast performance sailboat while being completely safe and comfortable.
---
Easy to sail, easy to trailer and easy to own. The Corsair 760 is the perfect performance trimaran for weekend getaway cruisers and shorthand sailors. Featuring a slide out galley and a pop-top saloon, the C760 is a boat load of surprises! Also available is the 760 Sport, with increased sail area and performance equipment, and the 760R, for the racing fueled sailor.
The Pulse 600 is a sport boat that's 100% focused on pure fun. The Pulse is designed for easy rigging and setup, so you can quickly launch, unfold the floats and get out on the water. The open cockpit design can carry a crew of four but can equally be sailed single or double handed. With multiple color options and sail materials, every Pulse 600 has a custom touch.
---
---